Open-Air Bath with A Panorama Viewof Lake Suwa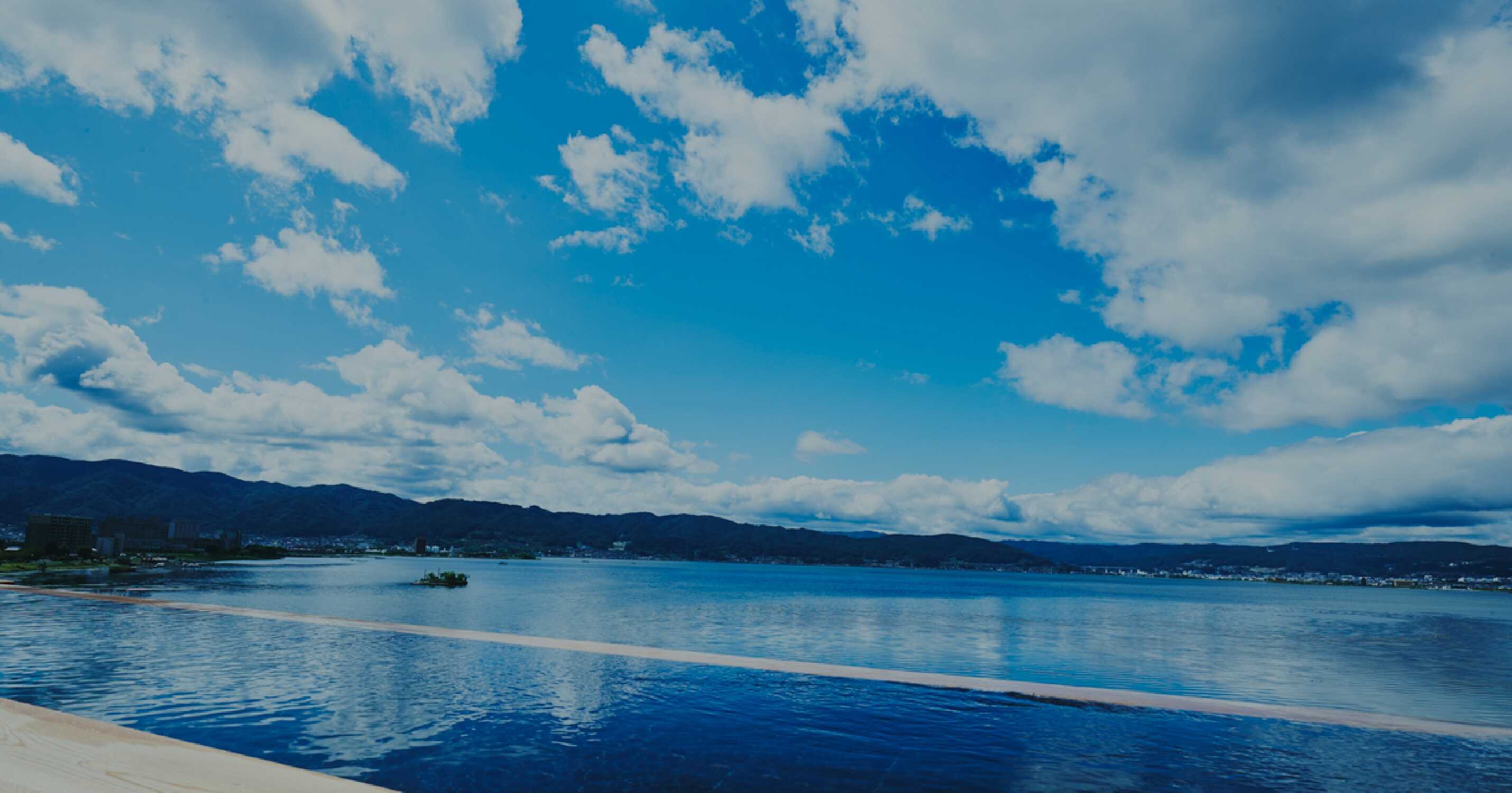 Unisex Open-Air Bath, "Wata-Shizuku"
The open-air bath and Lake Suwa are united into one in a moment,
a fantastic infinite view in front of you.
From the open-air bath on the top floor, you can experience the infinite view of the combination of the open-air bath and Lake Suwa. For a more comfortable experience of the unisex bath, we provide special bathing suits, Unomi, for bathing. After changing the bathing suit, you can enjoy the unisex open-air bath with your important person. Besides, people can enjoy our drinks on the terrace. The unisex open-air bath is only open for our accommodate guests using. We hope you enjoy the unique experience during your stay.
*Free Wi-Fi is available on the top floor.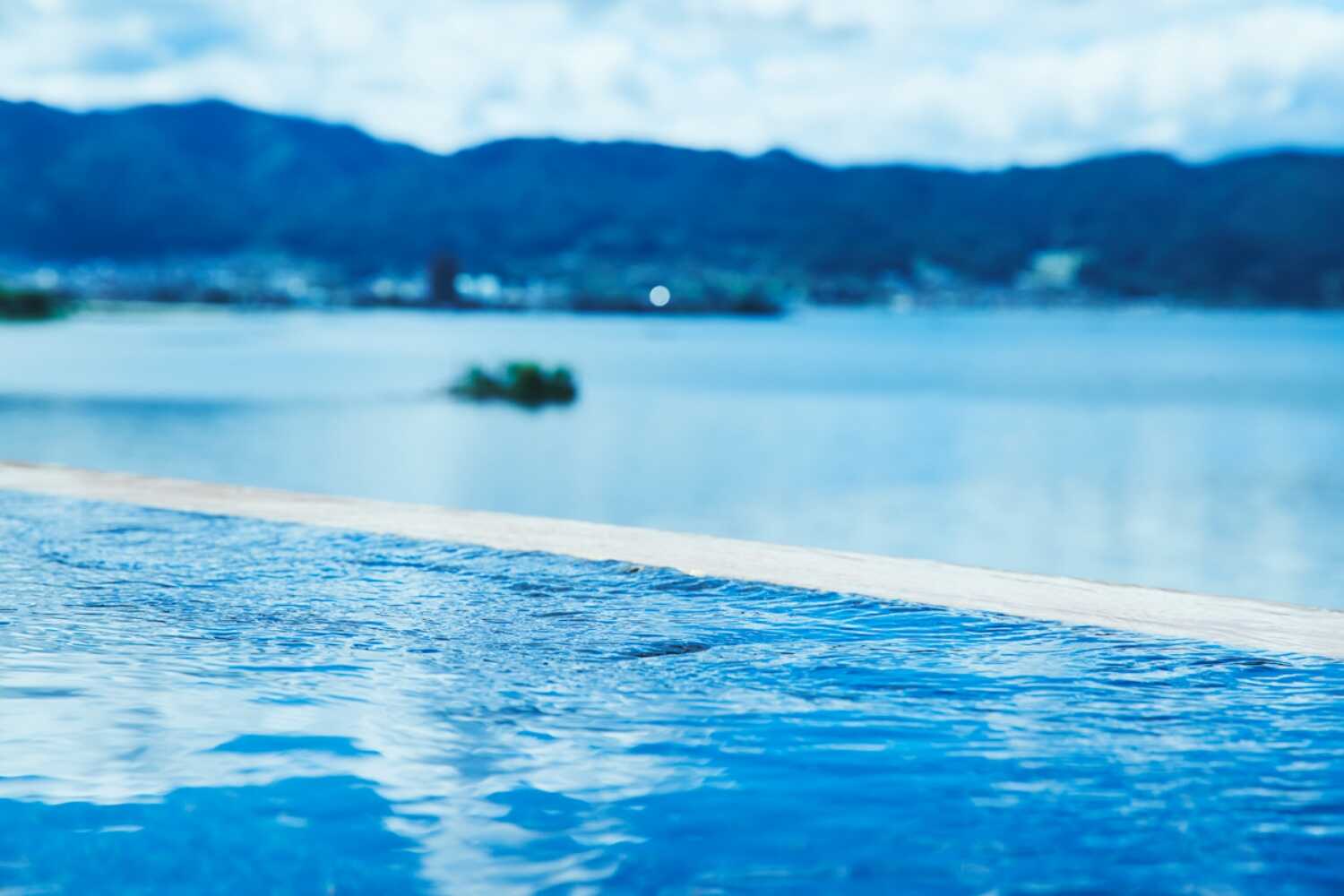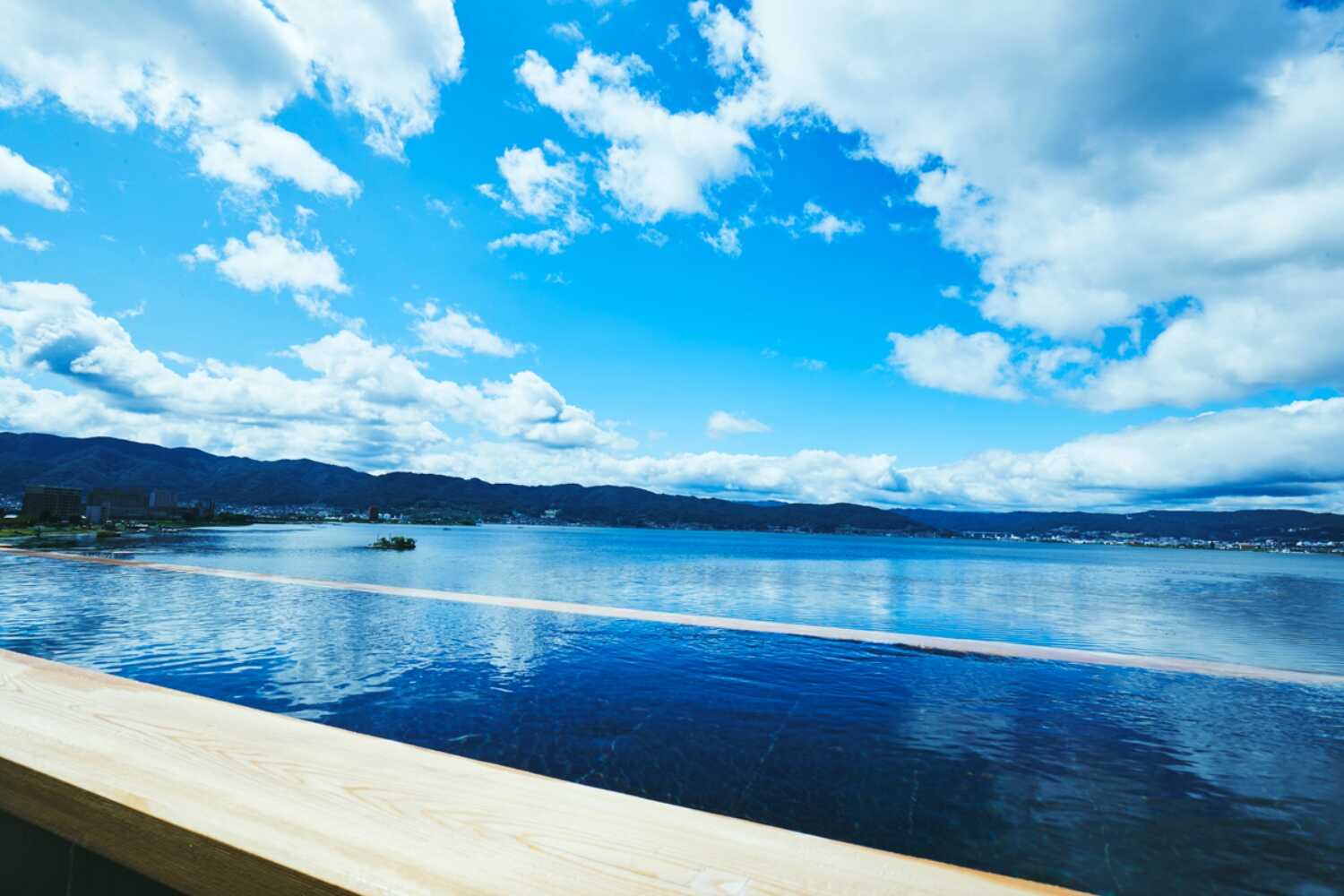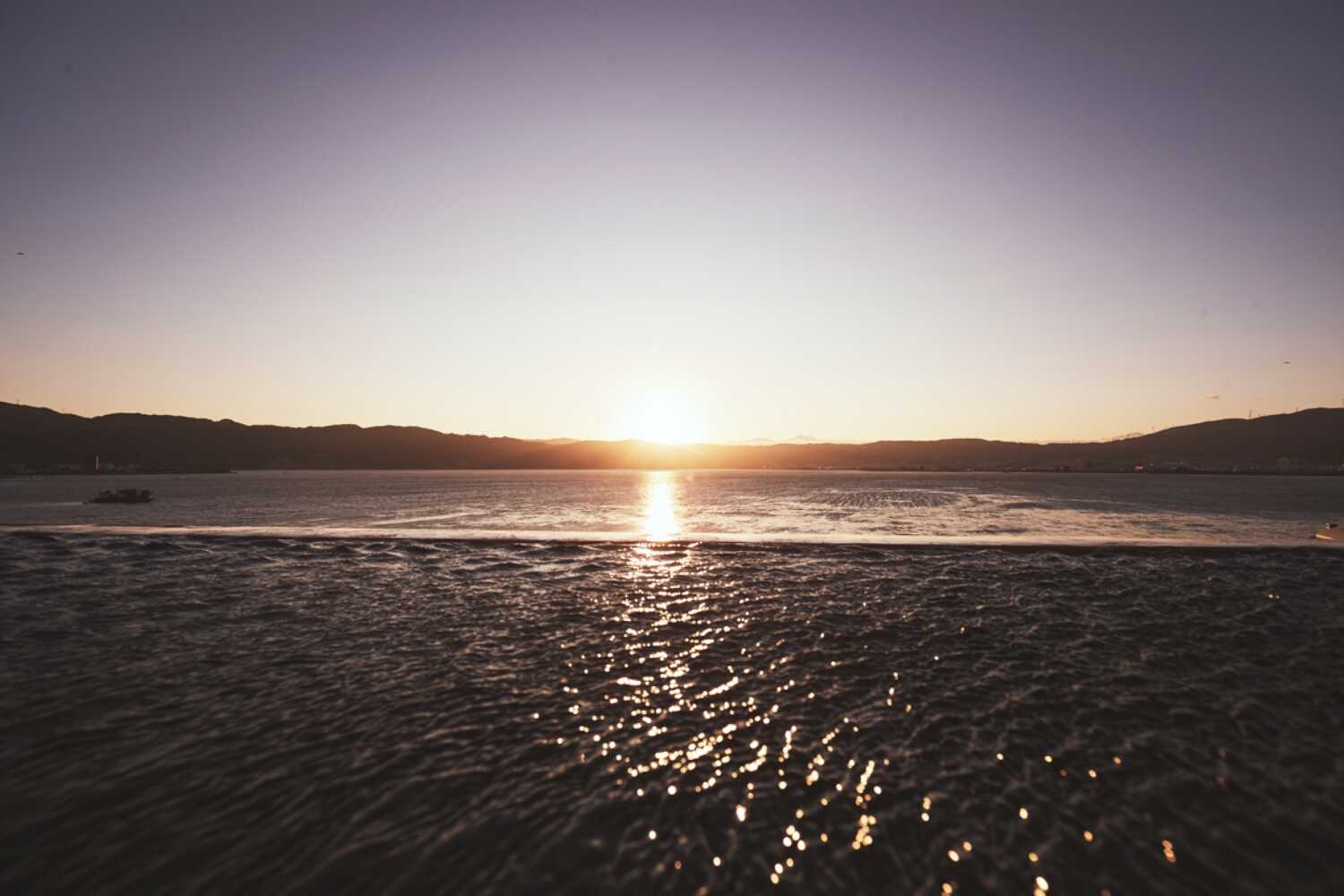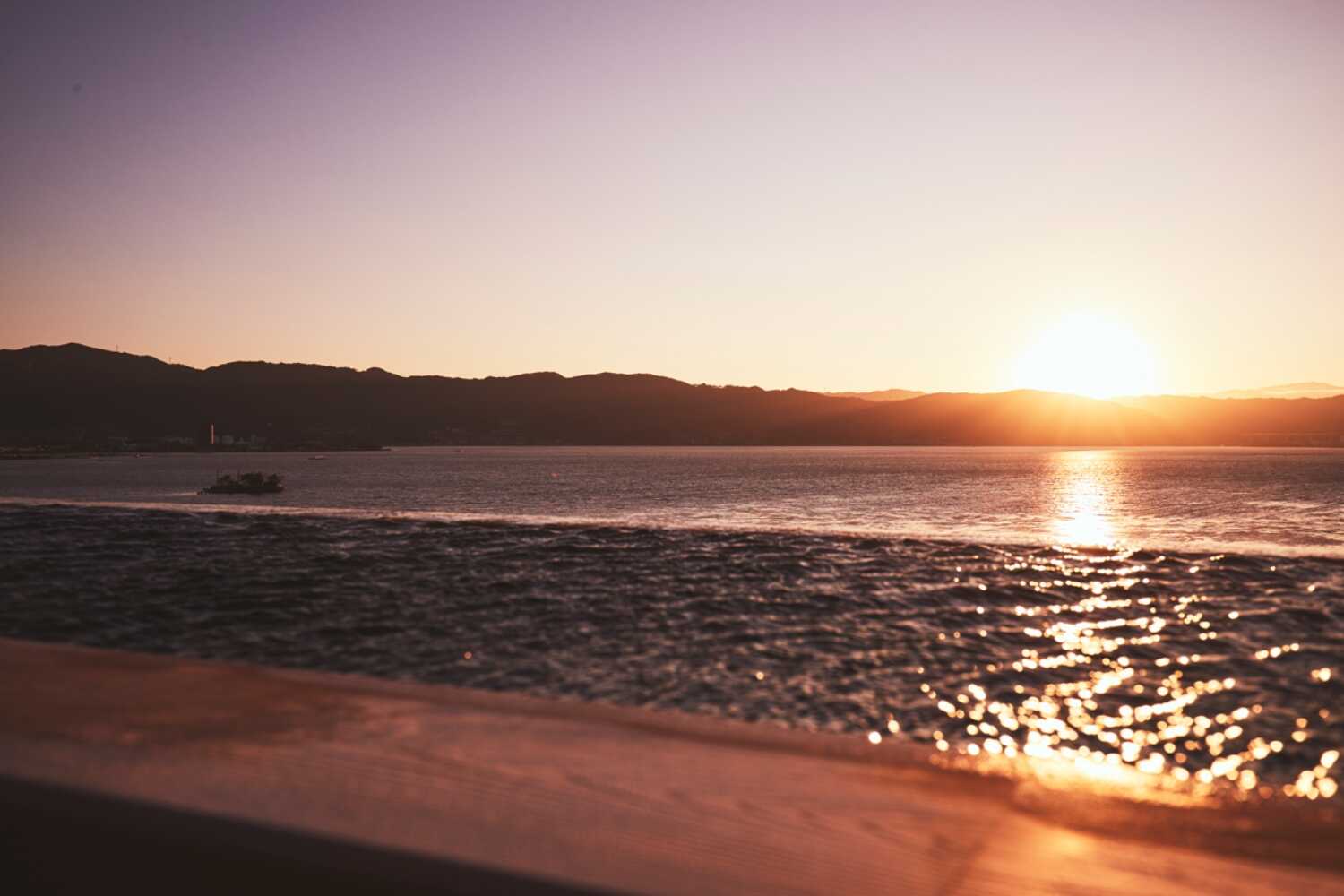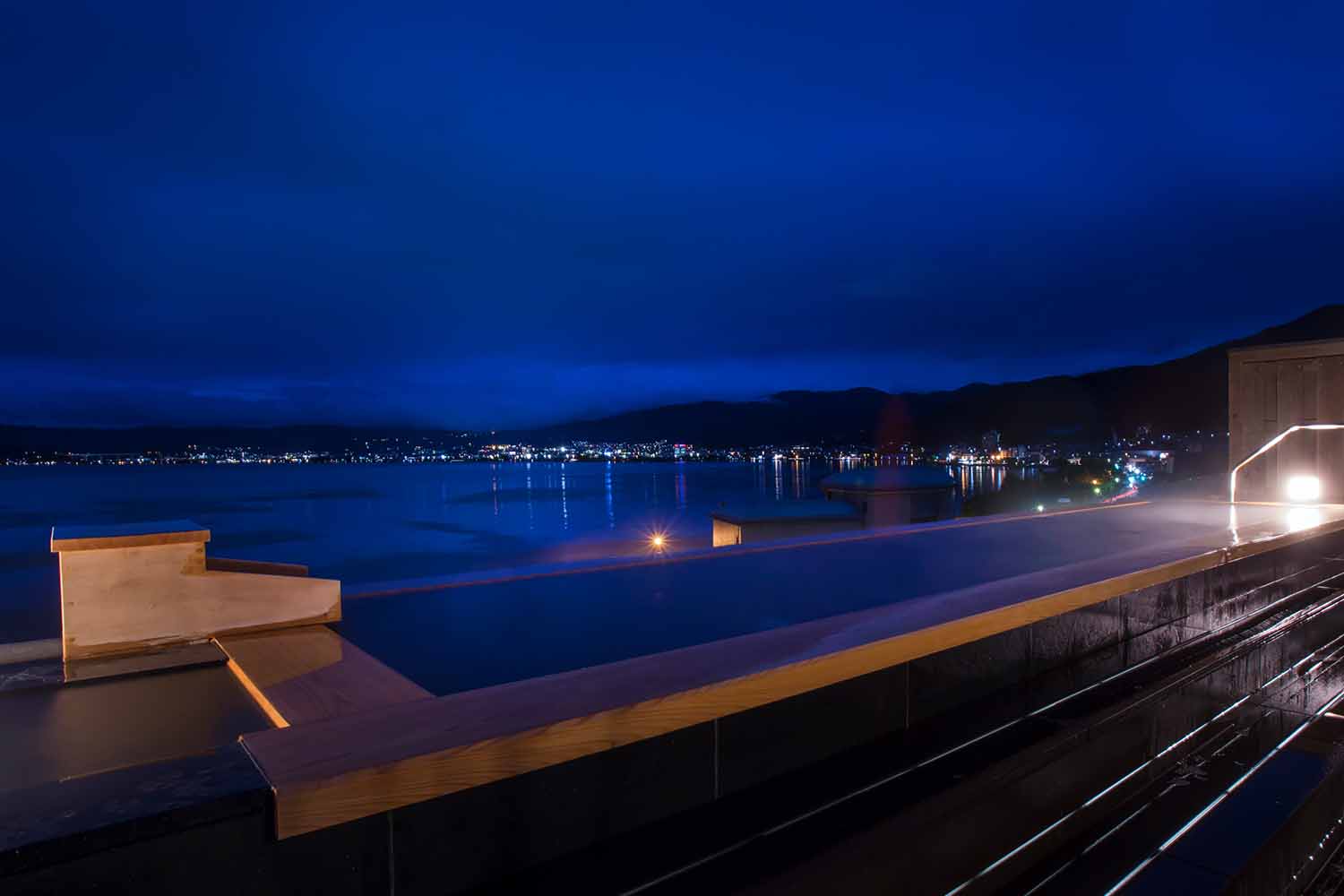 Information
For creating a space that guests can gather together for free and relaxing, the use of the open-air bath "Wata-Shizuku" is for unisex style.
Wear the "Unomi (bathing suit)" is required for every guest before entering the unisex open-air bath.
Free drinks are available(Some of the drink is for a charge)
Sedge hats are available for open-air bath use if it's rain or snow.
Free Wi-Fi is available on the top floor.
In-Room Open-Air Bath
Ultimate enjoy of
an in-room open-air onsen
and with the spectacular view of Lake Suwa.
All 8 rooms are with an in-room open-air bath with panoramic views of Lake Suwa. Gaze out over the magical scenery of Lake Suwa while immersing yourself in the hot spring in-room. In addition, the winter is cold in the Lake Suwa area, but don't worry, all rooms have heaters and windows with good insulation. Even in winter, people can enjoy their stay in the room with the private hot spring.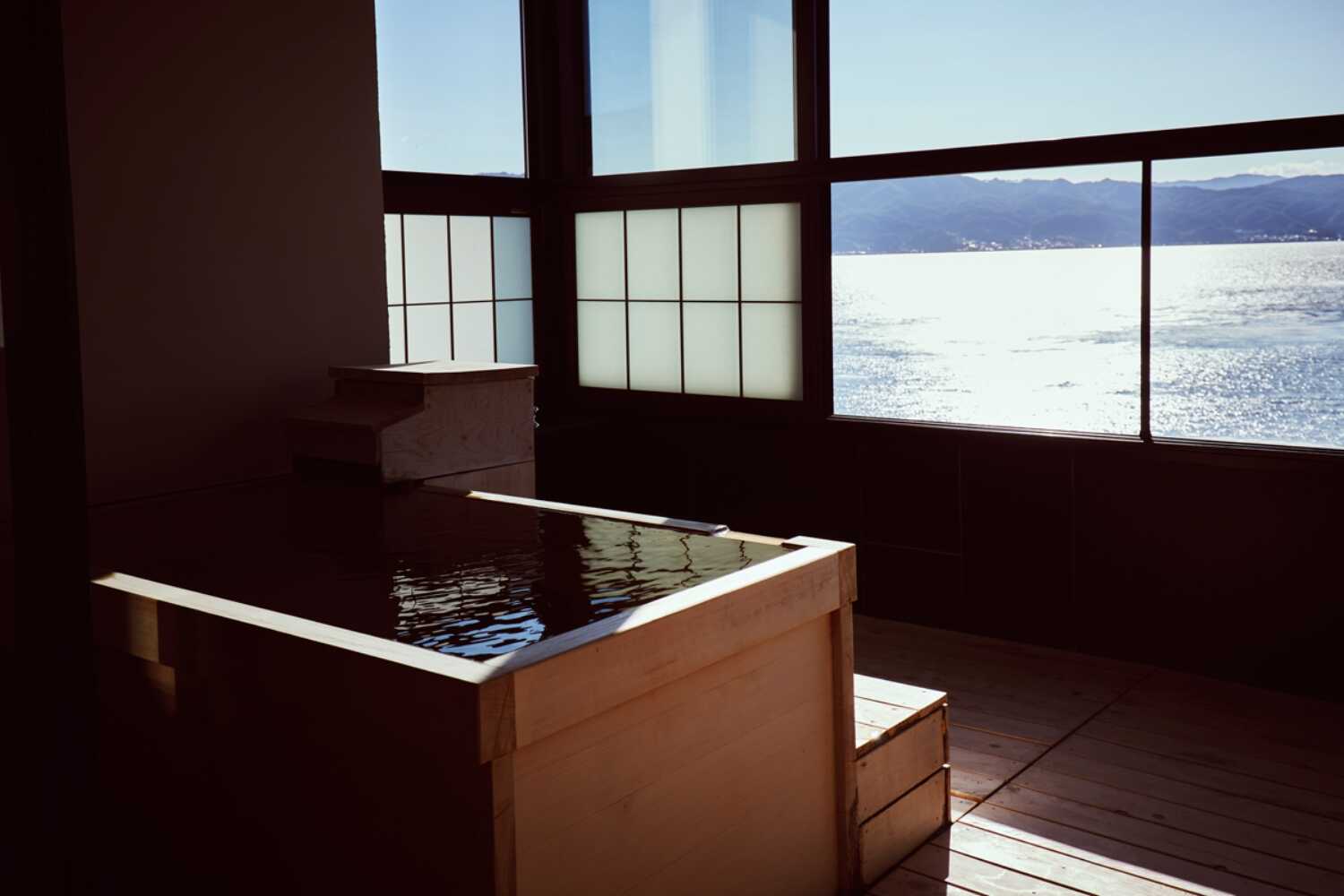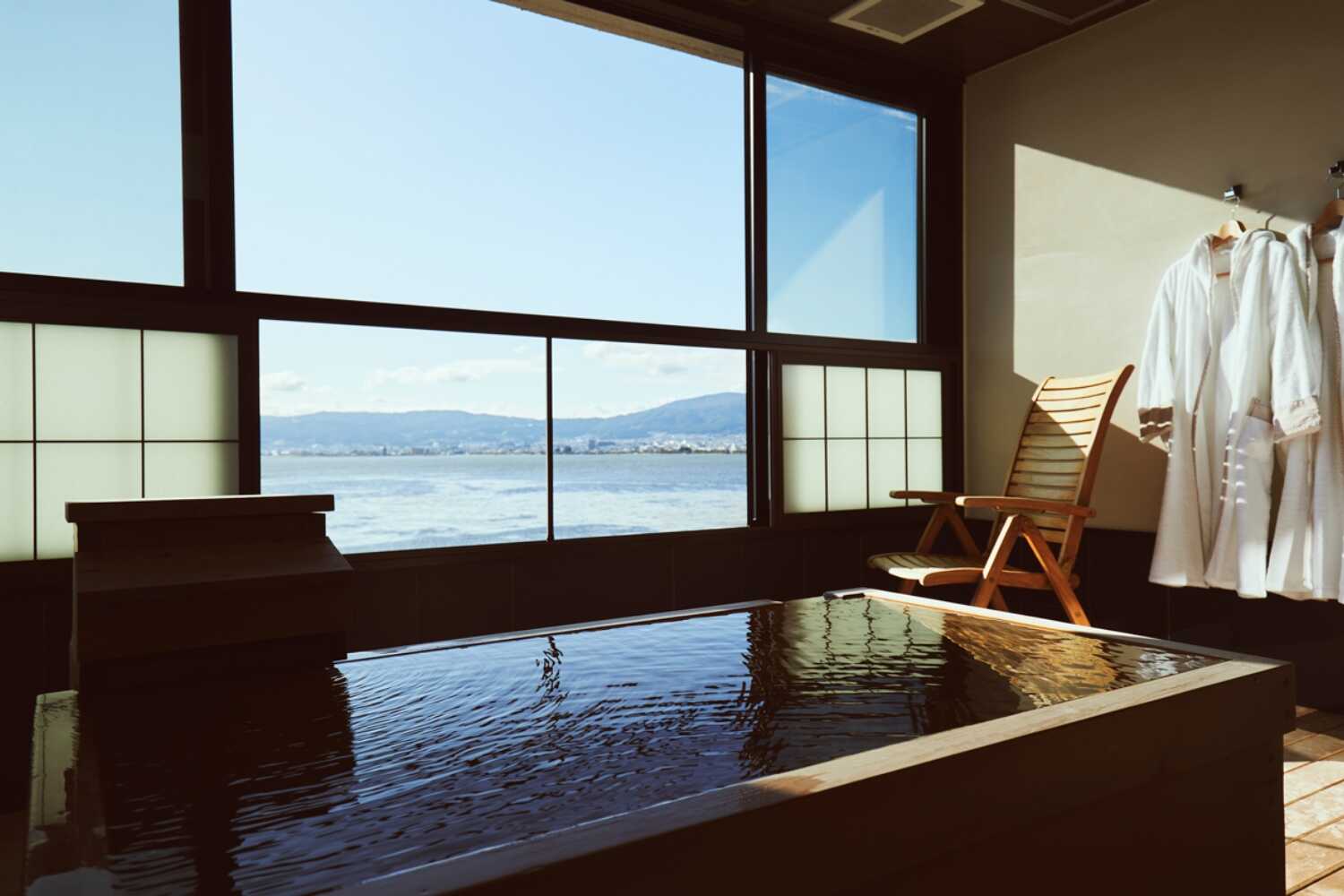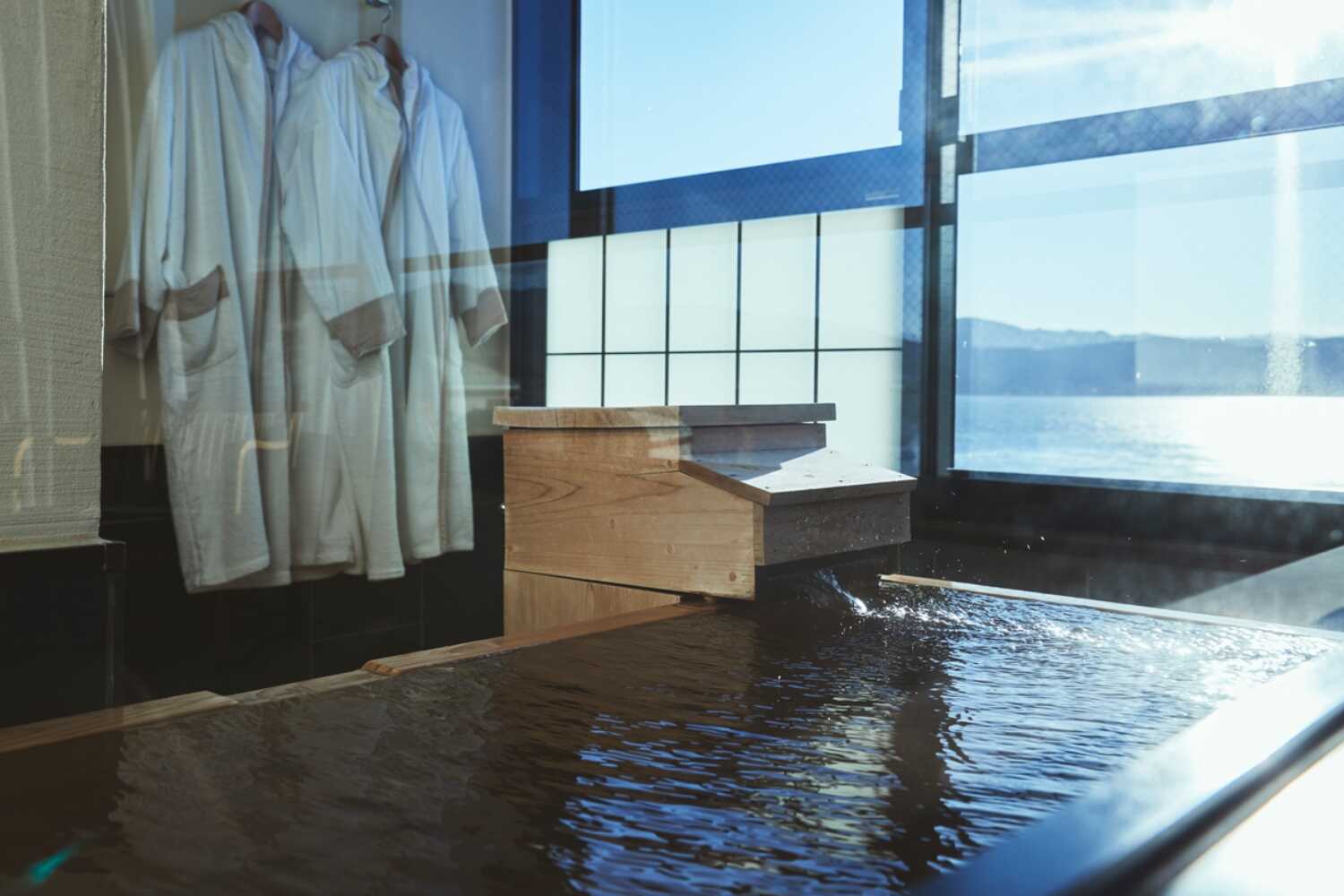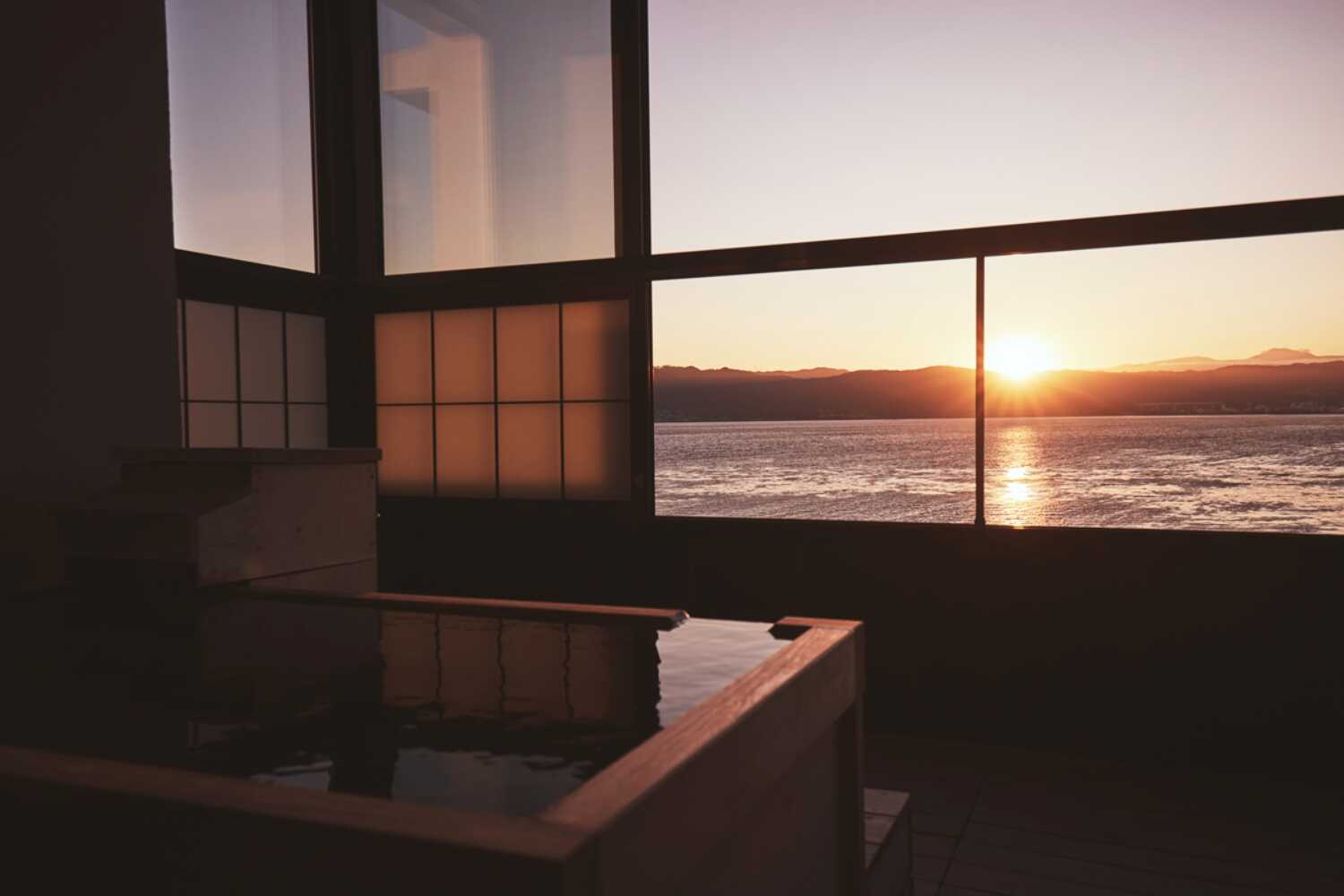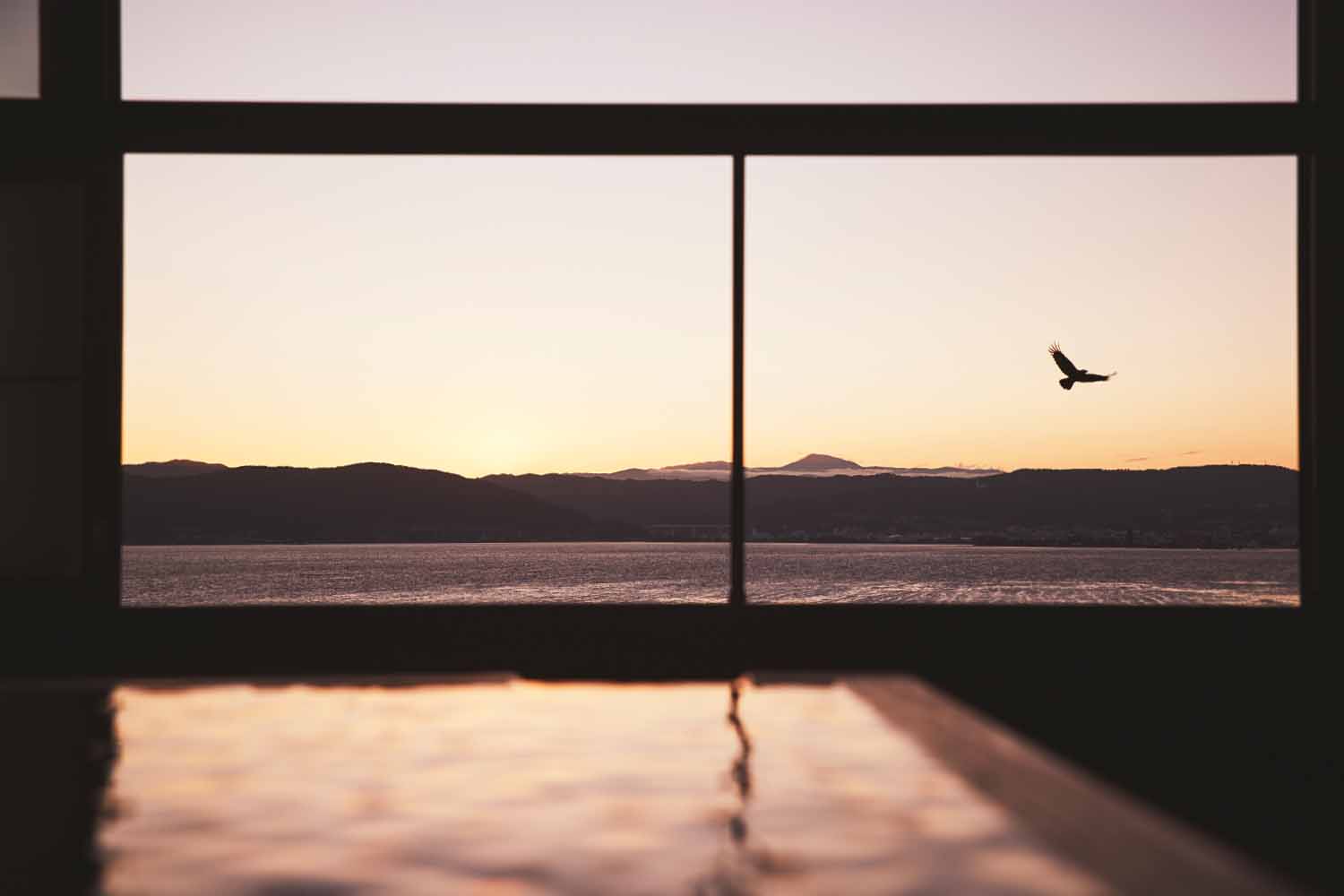 Kamisuwa Onsen Nanatsugama spring
Source of Hot Spring

Nanatsugama mix spring (Mitsugama No.1/No.2 spring , Ayame spring, Yamagi-Nami mixed spring )

Site of Spring

2 Chome-208-90 Kogandori, Suwa, Nagano

Spring Water Quality

Simple Sulphur Springs (Mildly Alkaline ,Hypotonic, High Temperature)

The Origin of "Nanatsugama"

Around the Showa 20th period (1945), Nanatsugama Spring appeared at the lake's bottom nearby this area. In the cold winter, the whole Lake Suwa freezes, but there are 7 places in the lake where abundant hot springs gush out and do not freeze, so these 7 places are called Nanatsugama.
Caution of Bathing
General Contraindications of Hot Springs
The active period of the disease (especially fever happen), open tuberculosis, worsening malignant tumors, severe anemia, severe heart disease or lung disease that causes breathing difficulties when the body is weakened, severe liver disease that causes edema, gastrointestinal bleeding, bleeding, or acute exacerbation of chronic diseases.
Indications of Bathing
Recuperative Power of Hot Springs for Specific Illnesses
Chronic symptoms such as rheumatoid arthritis, osteoarthritis, low back pain, neuralgia, frozen shoulder, bruise, sprain. Excessive sensitivity to cold, peripheral circulation failure, gastrointestinal hypofunction, impartial glucose tolerance (Diabetes), dyslipidemia, autonomic instability, insomnia, depression, recovery from fatigue or illness, health promotion.
Indications of Spring Quality
Autonomic instability, insomnia, depression, atopic dermatitis, plaque psoriasis, chronic eczema, epidermal suppuration