Suwa Taisha 4 Shrines
Free Tour Bus
Our sister hotel, "Kamisuwa Onsen Shinyu" nearby, runs Suwa Taisha 4 Shrines Free Tour Bus, "Shinyu Go."
The guide is the driver himself, who has abundant knowledge of the history of Suwa and Suwa Taisha shrines.
Also, there is an audio tour guide broadcasting on the bus while moving to the destination.
The tour will make your trip easier & deeper to experience four shrines and understand the Suwa area's history.
Departure Time
Every day run 2 buses
Morning 9:20 / Afternoon 13:20
The free bus tour is free, and all our accommodated guests can book a seat arbitrarily.Before and after check-in or check-out, don't forget to make a bus seat reservation if you're interested.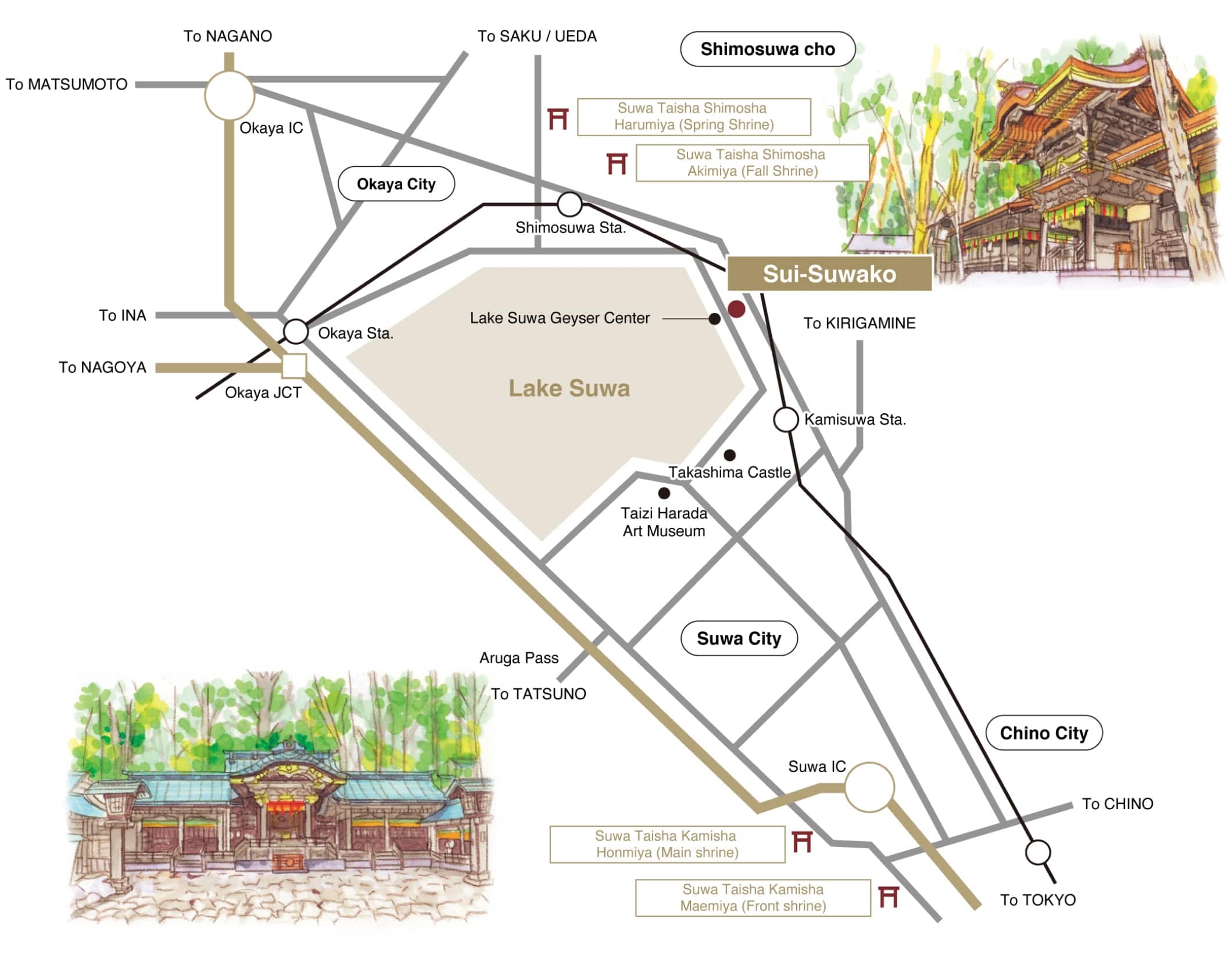 Honmiya (main shrine) is full of mystery.

Suwa Taisha Honmiya (main shrine)

Among shrines in the center of Nagano prefecture, only the Honmiya shrine is located in the primeval forest. The back of Homiya is Mt. Moriya as the deity's body. By located on the median tectonic line chasm (from Kantou to Kyushu) formed 80 million years ago , which is full of power, it brings the Honmiya shrine with a more mysterious atmosphere.

Maemiya (front shrine) with still scenery

Suwa Taisha Maemiya (front shrine)

The Maemiya shrine is the only shrine with Honten (main hall). And surrounded by forest, remains its original nature; you can feel the amity quiet your spirit.

Protect the sanctuary from unsanctified environments

Suwa Taisha Akimiya (fall shrine)

Several treasures are in the Akimiya shrine. Japan's biggest Komainu (lion-shaped guardian dog) for 1.7 meters made in bronze; Japan's largest Shimenawa is the same size as the Izumi Taisha shrine; the Heihaiden (a hall of worship for priests) built-in 1781 was designated as Japan's Important Culture Property. There is also a giant cedar tree more than 800 years old; it's said that putting cedar leaves under your pillow will help you sleep well.

Sanctified your body by the stream

Suwa Taisha Harumiya (spring shrine)

Beside Harumiya is the Togawa stream, gathering to Suwa Lake. The stream has a tiny island with the Ukijima shrine; the island never sinks, even passing enormous flood. A cedar tree forks into two parts at the upper part but unites into one trunk at the lower part; there is a saying it can bring good fortune for matchmaking.